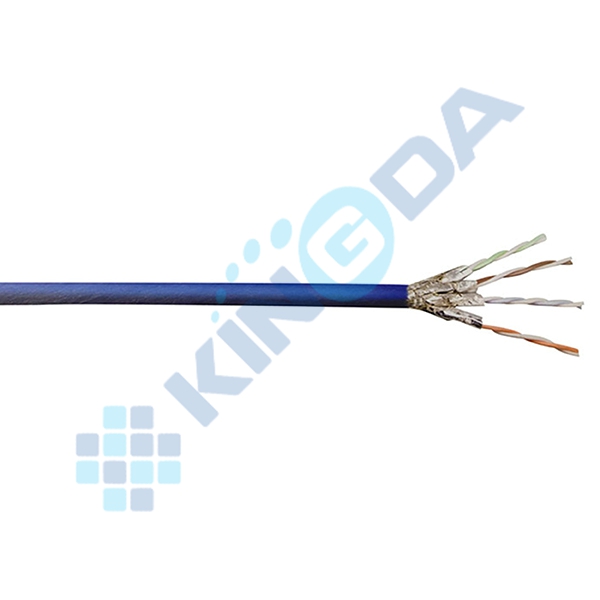 Name:

2000MHz S/FTP CAT8 Lan Cable

Model:

KDSS1000100

Hit:

646
Description
Technical Parameters
2000MHz S/FTP CAT8 Lan Cable

1. Standard
ANSI/TIA-568.2-D

ISO/IEC 11801(Edition 2.2)

IEC 61156-9(Category 8.2)
2. Application
Transmission of digital and analogue for data, video and audio application. Metal shielded and braided providing good protection from EMI noise.

Beyond IEEE Std 802.3bq-2016 25G/40G BASE-T and legacy speed

Top-of-Rack(ToR).End-of-Row(EoR).Middle-of-Row(MoR) and for data center cabling.

CDDI/FDDI/ ATM/Token Ring

IEEE 802.3af(PoE)/IEEE 802.3at(PoE+).

Limit Power-LP, UL, POE saftey standard.

HDBaseT 2.0 Standard.
3.Order Confirmation
Item No.
Outer Jacket
Overall Diameter(mm)
KDSS1000100P
CMP
8.2

±

0.25
KDSS1000100M
CMR
8.6

±

0.25
1.Electrical Characteristics
Temperature&Voltage Rating: 75℃

Spark Test:2.5KV DC

AC Leakage Current Through Overall Jacket: ≤ 10mA(1.5KV AC).

Cable Cold Bend: -20℃ for 4hrs

Conductor DC Resistance: ≤ 2.1Ω/30m

Resistance Unbalance:≤ 2%

Dielectrics Strength:1.5KV ac for 2s.

Insulation Resistance: ≥5000MΩ/km

Capacitance Unbalance Pair to Ground: ≤ 36pF/30m
2. Specification
| | |
| --- | --- |
| Conductor: | Solid Bare Copper 22AWG |
| Insulation: | PE(Skin-Foam-Skin) |
| Cores: | 8C, twised in 4 pairs |
| Color Code: | Bule x White, Orange x White, Green x White, Brown x White |
| Individual Pair Shield: | Each Pair Twisted with Metal Foil Screen |
| Overall Shield: | Tinned Copper Braid |
| Drain Wire: | None |
3.Nominal Transmission Characteristics
Frequency

(MHz)

IL

(max) (dB/30m)

NEXT

(min)

(dB/30m)

PS.NEXT

(min)

(dB/30m)

ACRF

(min)

(dB/30m)

PS.ACRF

(min)

(dB/30m)

RL

(min) (dB/30m)

Propagation Delay(max)

(ns/30m)

Delay Skew

(max)

(ns/30m)

PS.ANEXT

(min)

(dB/30m)

PS.AACRF

(min)

(dB/30m)

100

5.56

75.4

72.4

60.6

57.6

22.2

161.3

7.5

80

62.2

500

12.83

64.9

61.9

46.6

43.6

17.3

160.7

7.5

77

48.2

1000

18.56

60.4

57.4

40.6

37.6

15.2

160.5

7.5

72.5

42.2

2000

27.15

55.9

52.9

34.6

31.6

13.1

160.4

7.5

68

36.2